The upcoming edition of LED Expo Mumbai is packed with spectacular fringe promgrams which will enhance your knoweldge about the new and emerging technologies that will take the industry by storm and will also give you a snaek peak in to emerging smarlighting market in India.
Make sure you take advantage of this opportunity!
Panel discussion by ISLE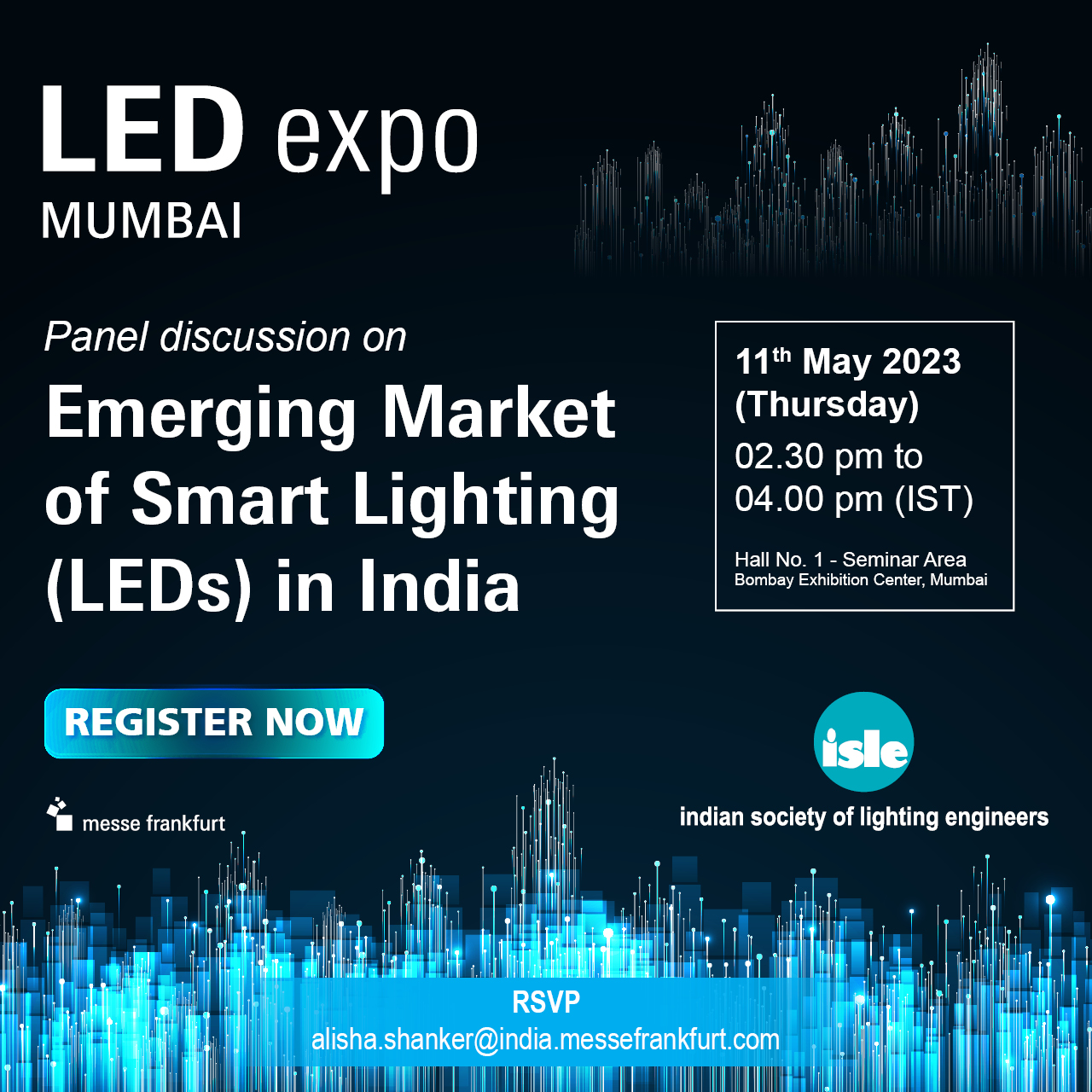 The sales of smart lighting technology are at an all-time high, due to increased urbanization and awareness about this technology, here is your chance to get an insight into the emerging market of the smart lighting (LEDs) industry in India.
Presentation by Light + Building & Light Middle East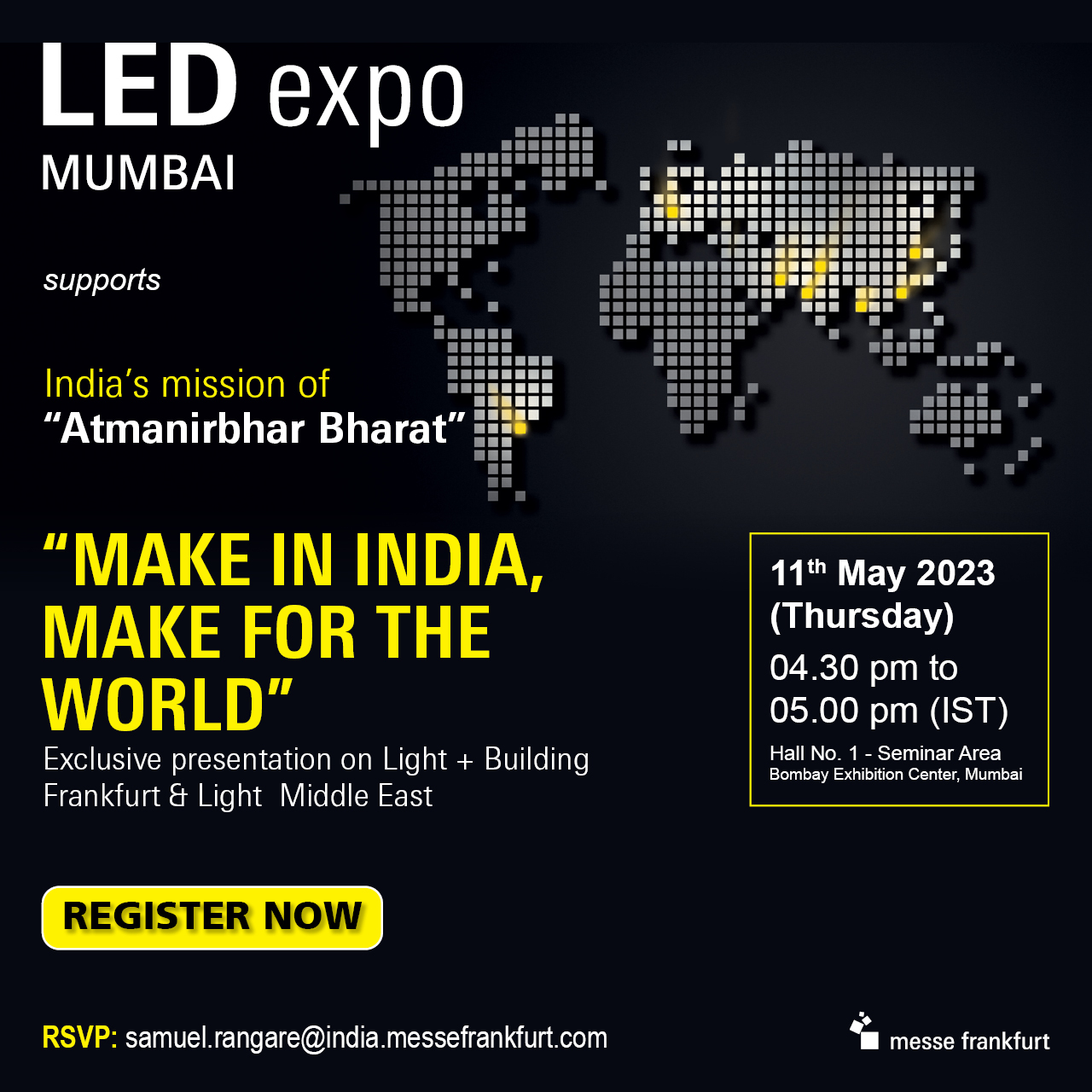 Brand LED Expo supports Govt. of India's Atmanirbhar Bharat mission "MAKE IN INDIA, MAKE FOR THE WORLD" by presenting business opportunities for Indian companies via our global Lighting Trade fair platforms.
Thus becoming an integral part of the global supply chain. An exclusive presentation on Light + Building Frankfurt & Light Middle East
RSVP: samuel.rangare@india.messefrankfurt.com
Panel discussion by KNX India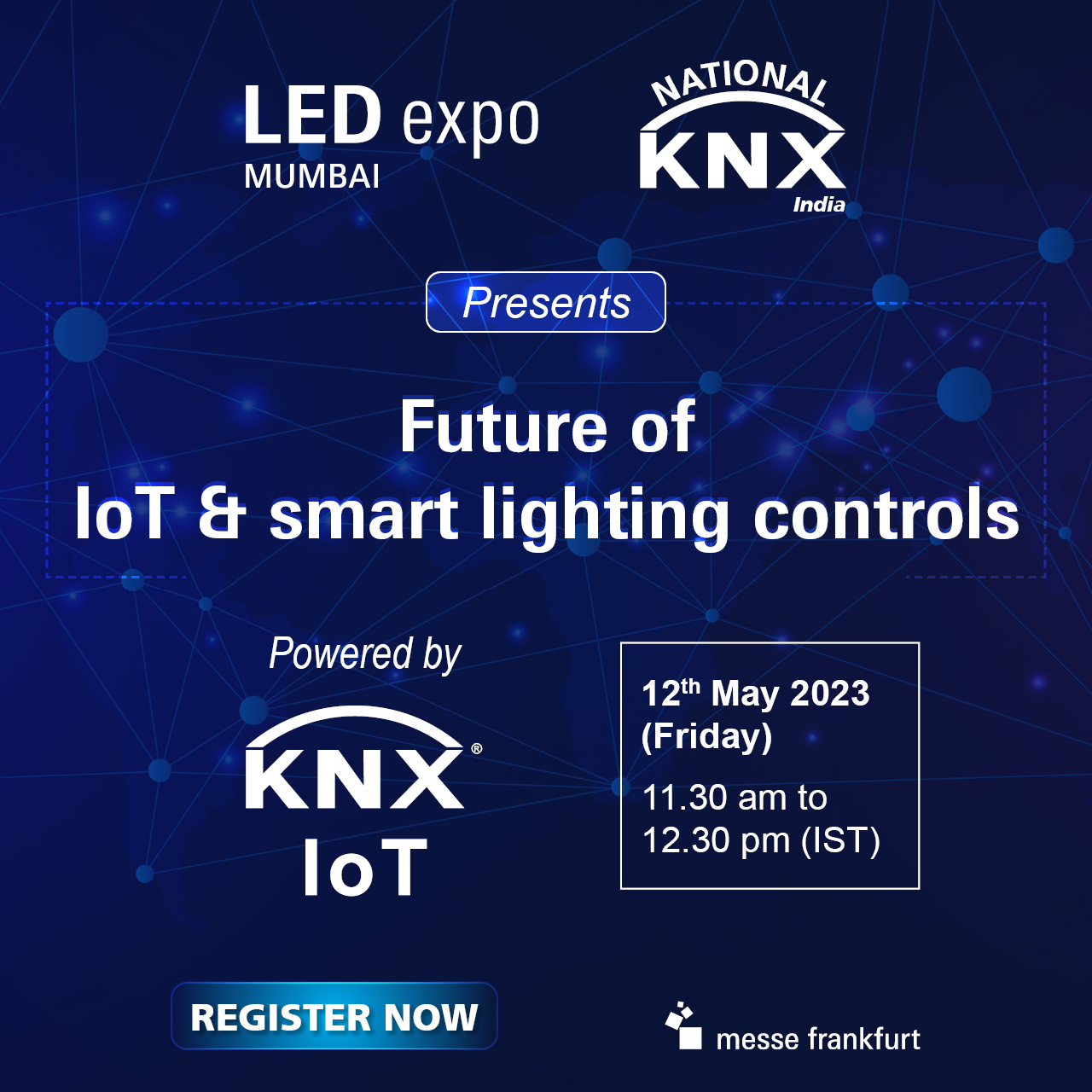 Prepare yourself for the " Future of IoT & smart lighting system – Powered by KNX IoTech"
Hall no. 1, Bombay Exhibition Center, Mumbai.
Learn how this technology can help you, make it easier to access data, promote IoT technology exploration, and connect communication channels to smart devices, which can improve security.

This soon-to-be-released technology in India will undoubtedly revolutionize the market!
"The Power of Stories" Coffee table book launch by Women in Lighting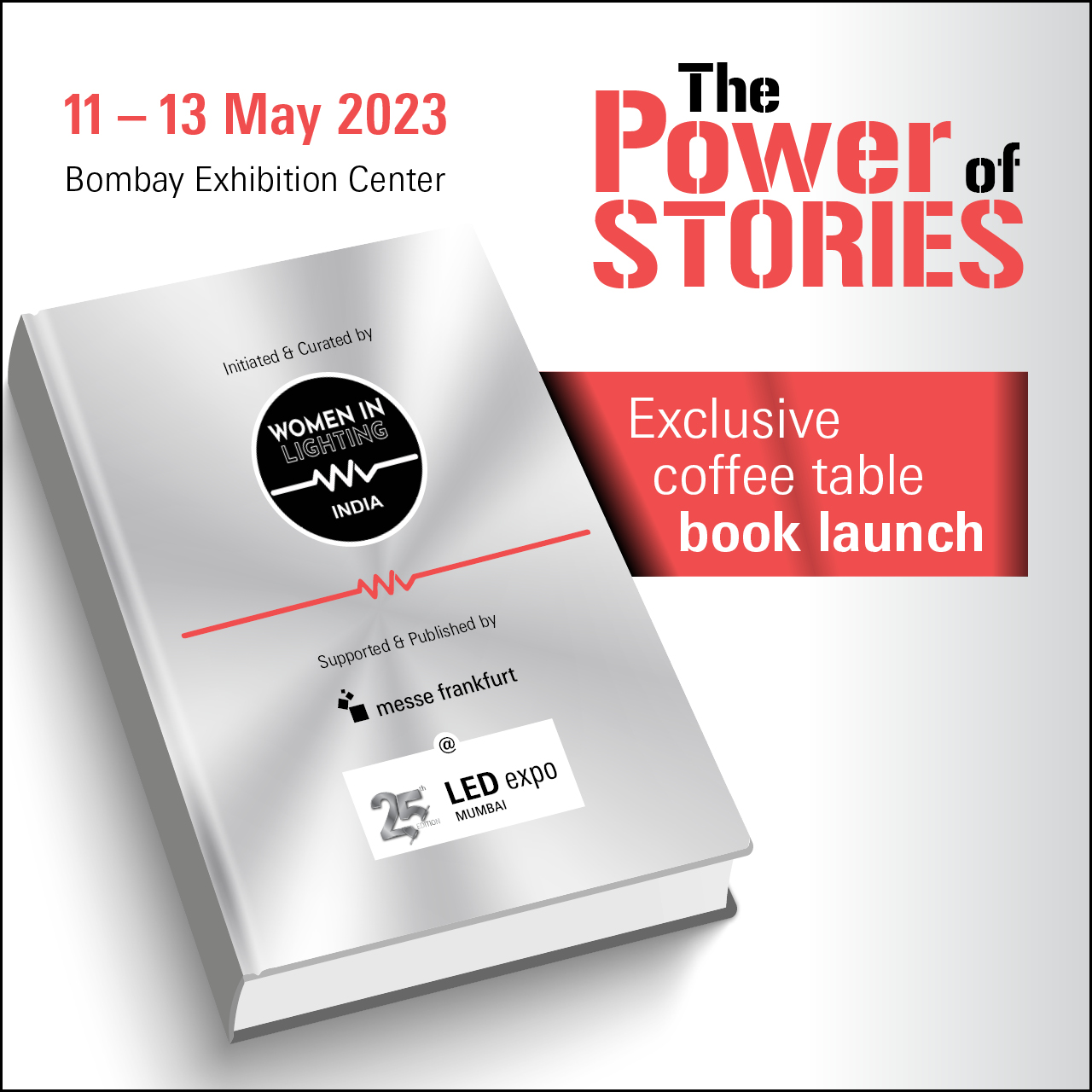 On the occasion of the Silver Jubilee edition of LED EXPO, we are thrilled to announce the publication and official launch of "The Power of Stories", a Coffee Table book that is being conceptualized and published through a partnership between Messe Frankfurt and Women in Lighting India under the leadership of Women in Lighting India Ambassador, Surbhi Jindal. 
It is a must-attend event, featuring inspiring stories from 40 professionals in the lighting industry, who will amaze, inspire, and motivate you!
Mark your calendars for May 12th, 2023, at 4:00 PM (IST) Hall 1, Bombay Exhibition Center. Join us for an unforgettable event focused on lighting design, and experience the power of Women in Lighting India. 
ISLE Certification Program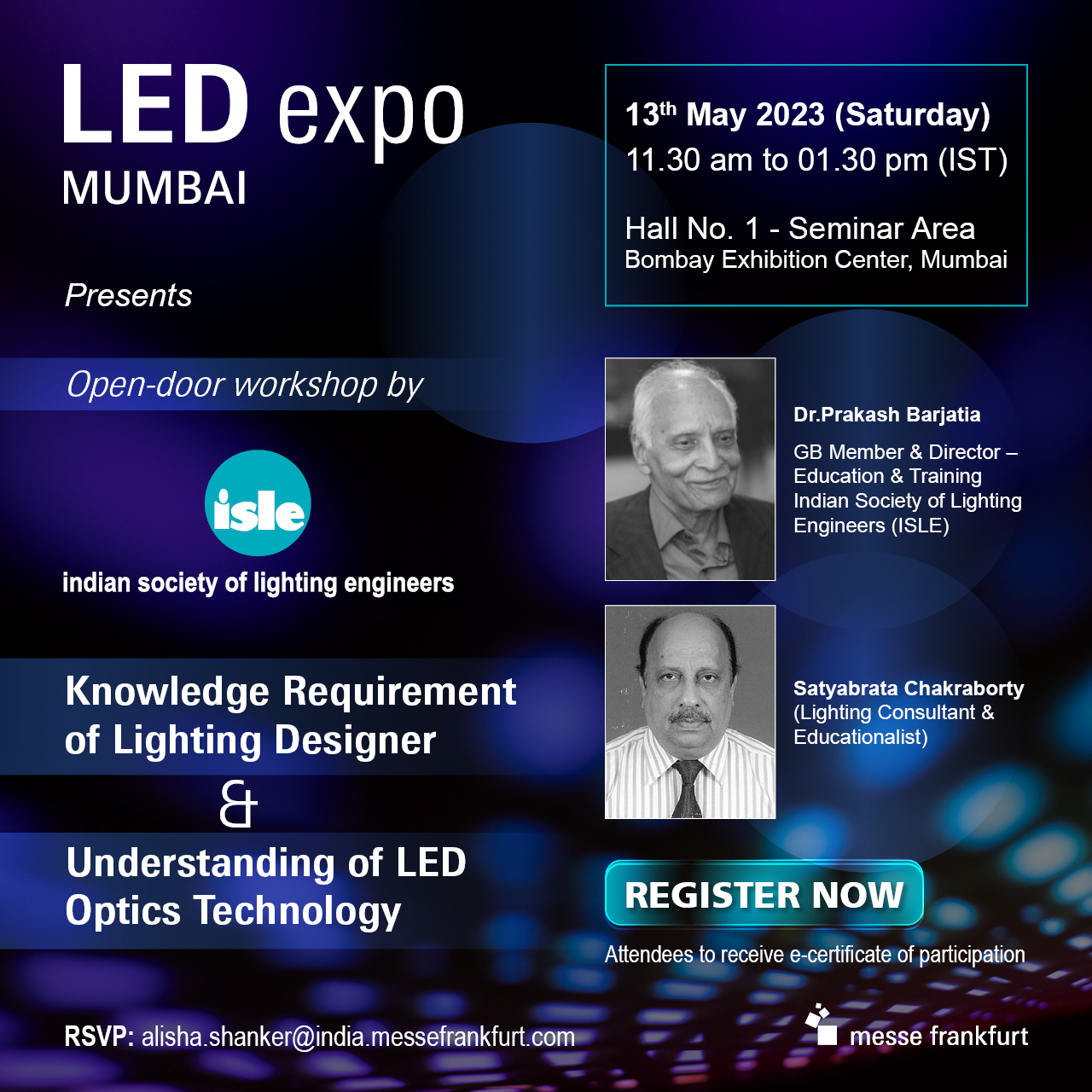 Energy-efficient lighting is revolutionizing the lighting industry, namely LED lighting, which is continually changing. Professionals in the lighting industry must constantly learn new information, stay current, and feel confident while participating in discussions and advocating systems or offering solutions.

Here is a fantastic opportunity for you to acquire invaluable insight and knowledge about Lighting design and LED optics technology and also earn an e-certificate of participation by ISLE (Indian Society of Lighting Engineers).
Limited seating is available. Hurry RSVP your details to alisha.shanker@india.messefrankfurt.com